If you've developed a toenail deformity, you may require toenail surgery.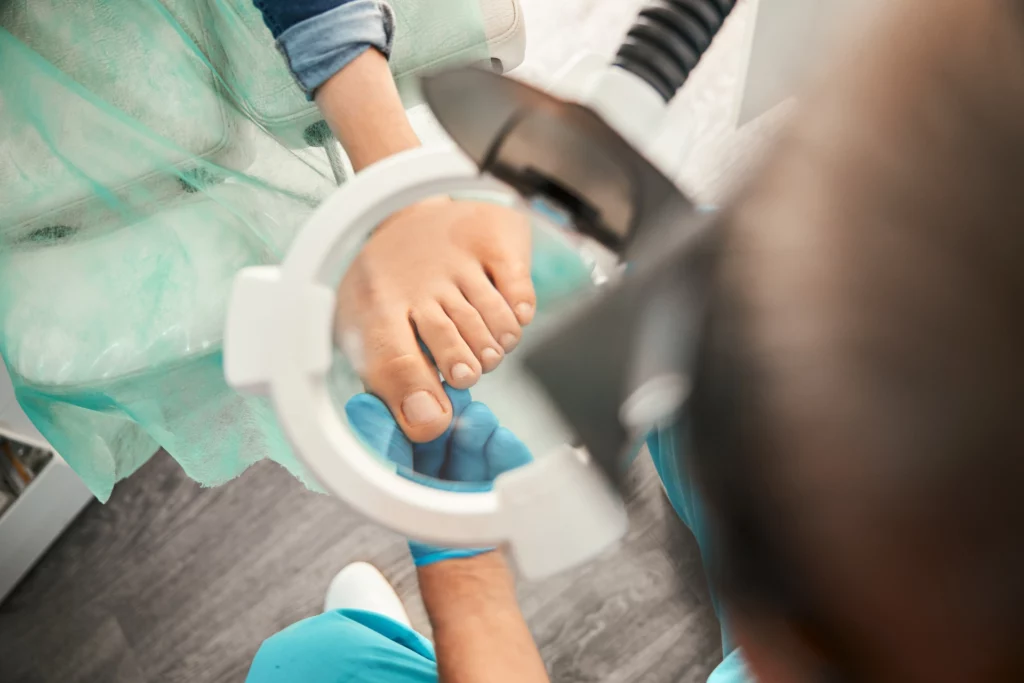 This fairly routine operation can be carried out by a qualified foot specialist here at our Bedford clinic. You won't need a trip to the hospital, and you'll soon be back on your feet and enjoying life to the full.
If your deformed toenail is painful or infected, you need professional help. At MyFootMedic, we treat a range of common foot conditions, so book in for an appointment today.
Sometimes surgery is the last resort for an ingrown toenail treatment.
At MyFootMedic, we'll discuss a range of treatments for your toenail condition before recommending surgery.
But, sometimes, surgery is the only solution that brings lasting relief from pain and discomfort. Your procedure is carried out under a local anaesthetic in a sterile and hygienic environment.
There are two different procedures:
Partial nail avulsion: one or both sides of the infected nail are removed
Total nail avulsion: the entire nail is removed
Depending on the problem, we may apply a chemical, or surgically remove the nail matrix, preventing regrowth.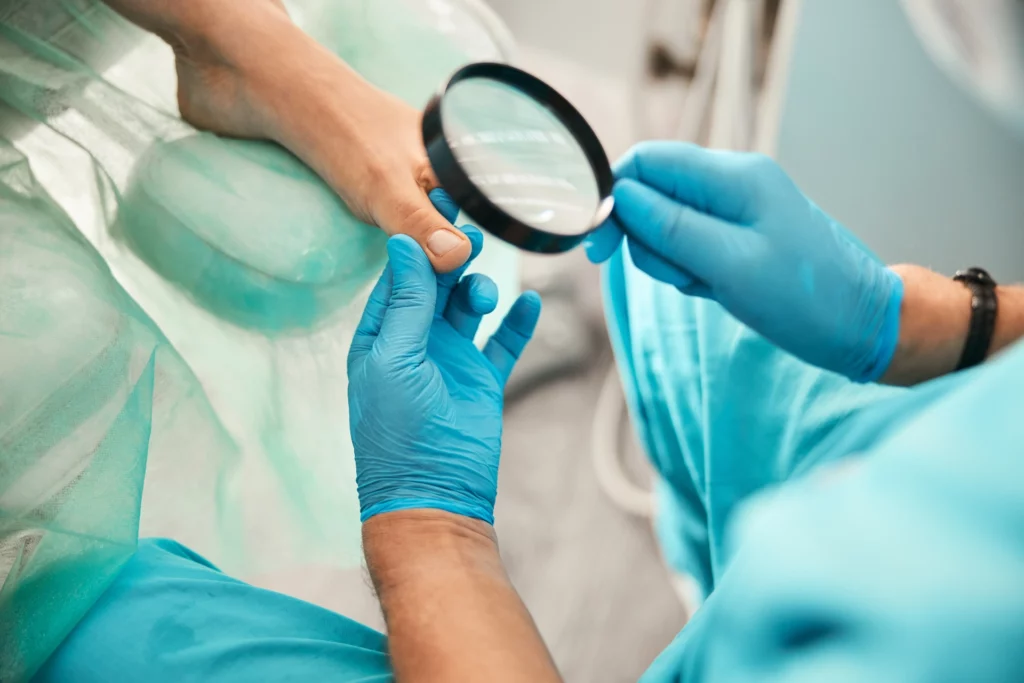 WHEN DO YOU NEED TOENAIL SURGERY?
Situations requiring toenail surgery include:
Thickened toenails
Ingrowing toenails
Fungal nail infections
Psoriatic nails
Damaged nails
We only recommend nail surgery in extreme cases, and we'll try a range of other therapies and treatments before recommending you have the nail removed.
Nail surgery is generally required when a damaged or infected nail is painful or causing recurring infections. Sometimes a thickened nail will cause discomfort because of shoe pressure.
We may need to remove some or all of the nail, and in extreme cases, we'll apply an acid, or surgically remove the nail matrix, to prevent a part or all of the nail from regrowing.
If you suffer from infections in your toes or have difficulty walking, toenail surgery could correct the problem. If you miss having the freedom to wear the shoes you want, toenail surgery could be the answer.
On the day of your nail surgery, you'll be able to eat, shower and take certain medications as usual. Please check with the specialist which medications should be stopped prior to the procedure. We recommend that you wear open-toed shoes because of the size of the dressing and ask you to remove any nail polish.
During nail surgery, the toe will be completely numbed, by a local anaesthetic being used to block the nerve sensation. The surgery isn't complex and takes only a few minutes, but you should allow around an hour for the entire procedure.
One of our qualified podiatrists will perform your nail surgery. Afterwards, a dressing is applied, and a follow-up appointment is arranged to check that everything is healing correctly.
Aftercare for toenail surgery is relatively simple, but you will need to avoid showering and bathing to keep the dressing on your toe dry for the first 48 hours. A clean dressing will be applied at your follow up appointment.
We'll show you how to change the dressing, which you'll be required to do daily for the next few weeks. We'll also arrange an appointment eight weeks after surgery for a final review.
A few hours after surgery, the numbness will begin to wear off. You may then feel some pain or throbbing. We recommend you take paracetamol or ibuprofen for a couple of days after your nail surgery until any discomfort eases. The following is strongly advised:
We recommend that you rest and keep the foot elevated for the next 48 hours after surgery.
If you play sports, we ask you not to participate for 4 weeks after the procedure.
Following DVLA advice, you won't be able to drive after surgery because the use of an anaesthetic invalidates your insurance for 24 hours. Avoid public transport and arrange for a friend, family member or taxi to take you home after your nail surgery.
You won't be able to undergo any other surgery or treatment that requires an anaesthetic for 48 hours before or after your procedure.
TOENAIL SURGERY IN BEDFORD WITH MYFOOTMEDIC
At MyFootMedic, our podiatrists have years of experience in dealing with all types of toenail surgery. We understand your anxiety and will only carry out nail surgery as a last resort if all other lines of treatment have proved ineffective.
We aim to make you as comfortable as possible throughout your surgery. We'll thoroughly explain the procedure and answer all your questions. Our knowledgeable and experienced team will put you at your ease.
We use the latest podiatry techniques and state-of-the-art technology to diagnose and treat a wide range of podiatric problems. We follow stringent hygiene protocols and offer video consultations so you can consult us from the comfort of your home.
Contact us today to book a face to face or video appointment with our podiatry team.
Book an appointment today, and our podiatrists will be able to assess, diagnose and treat your toenail using the most appropriate methods and see if surgery is required.