If you're experiencing ongoing foot pain, whether in the joints, muscles, tendons or ligaments, you may benefit from foot orthoses. Also known as orthotics, orthoses are shoe inserts that can support your feet, relieve pain, and improve joint function.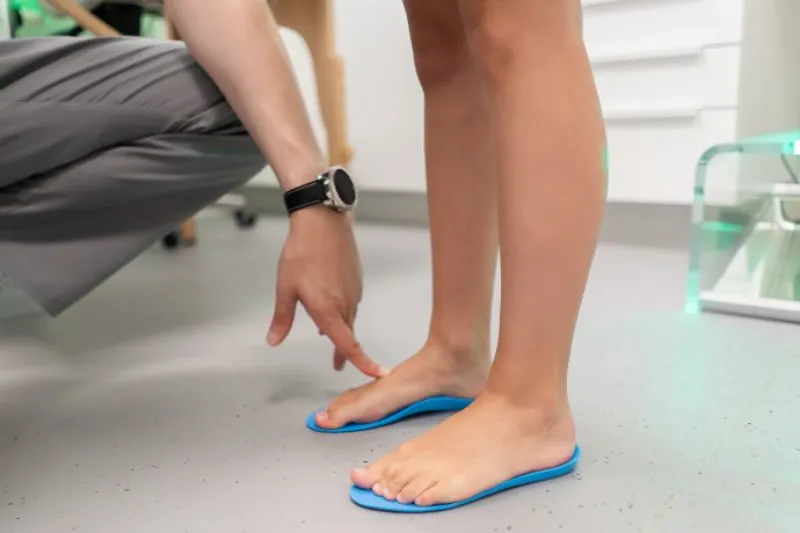 Foot orthoses (or orthotics) are inserts that sit within your shoes. They help correct biomechanical foot issues by giving your feet external support and promoting proper foot alignment and movement.
Orthotics may physically alter your posture and the way you stand (kinematics). However, their primary function is to alter the forces (kinetics) applied through your feet whilst walking.
Orthotics, insoles, and footbeds are all interchangeable terms used to describe foot orthoses. They are all shoe inserts that can adjust your joint function, posture, and pressure distribution.
HOW MANY TYPES OF ORTHOTICS ARE THERE?
There are many different types of orthoses to aid with different conditions. However, all orthotic insoles consist of three main areas of construction:
Shell – the rigid underside of the orthotic, which usually covers the back half of your foot.
Components – the wedges and raised pads.
Cover – the material on top of the orthotic that makes direct contact with your foot.
CAN CUSTOM ORTHOTIC INSOLES FIT ANY SHOES?
During your assessment, your podiatrist will look at your footwear and make recommendations where required. Some orthotics will fit your current shoes. However, in some cases you may need to buy new footwear to aid in your treatment.
It's a good idea to bring several pairs of your shoes to your appointment so we can make an accurate assessment.
What are orthoses used for?
ORTHOTICS IN BEDFORD WITH MYFOOTMEDIC
For top orthotics in the Bedford area, come to the MyFootMedic clinic. Our state-of-the-art facilities can provide treatment for a range of podiatry issues.
Book an appointment today, and our podiatrists will be able to assess, diagnose and provide advice on the best custom orthotic insoles for your situation.