At MyFootMedic, our team of highly experienced specialists will guide you through the process and provide impeccable podiatry services.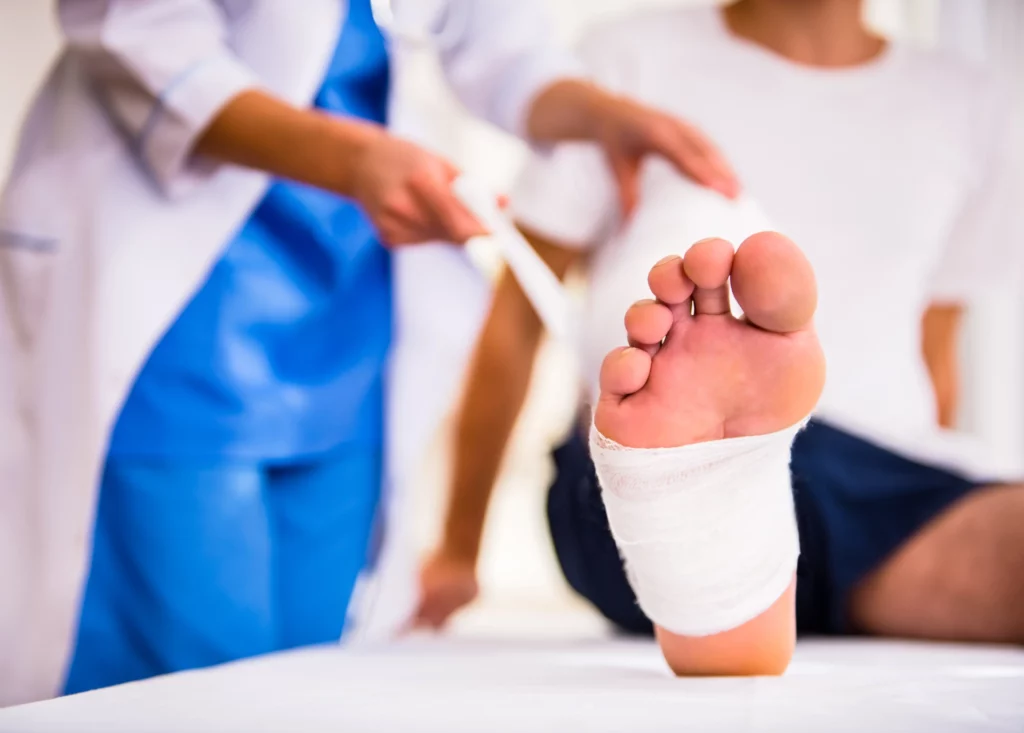 WHY MIGHT YOU NEED SKIN SURGERY ?
Podiatrists may carry out skin surgery for a couple of reasons. Firstly, it could be the most effective way to identify an underlying cause. If you're concerned about a mole that's grown or changed or have any other abnormal skin growth, a biopsy can be performed. From here, laboratory analysis can check for any more serious issues, such as skin cancer or to determine any infections that may be present.
Secondly, skin surgery might be the best treatment option for a source of pain or discomfort. It can help resolve issues including:
PERSISTENT VERRUCAE 
INTRACTABLE PLANTAR KERTOSIS (a painful callus)
HYPERGRANULATION TISSUE FROM A WOUND
CUTANEOUS HORNS (conical protrusions of keratin)
PYOGENIC GRANULOMA (benign swellings) 
PAINFUL CORNS
SCAR TISSUE
What happens during skin lesion excision?
If your podiatrist decides that skin surgery is the best option for you, you'll undergo local anaesthetic to numb the area surrounding the lesion.
Once numb, the Podiatrist will make a small incision into the skin to remove the lesion. Depending on the location and size of the lesion, they'll try to make the incision along the natural lines and contours of the foot to minimise scarring.
The lesion is then carefully excised, and the Podiatrist will stitch the surrounding tissue together. In some cases, it's not possible to sew the skin up. If this happens, the wound will be covered appropriately and will naturally seal itself.
The length of the procedure will depend on your particular circumstances. However, as a general rule of thumb, treating one lesion will usually take around 20-30 minutes. You'll be given an hour-long appointment to account for the time needed to administer the anaesthetic. If you're having multiple lesions removed, you'll need longer.
RECOVERING FROM SKIN SURGERY
Recovering from a skin lesion excision should be straightforward. Your Podiatrist will cover the incision site with a post-operative dressing, and you'll need to keep the area dry and clean. It's important to avoid activities like swimming or strenuous exercise until the wound has fully healed.
It's also essential that you don't drive straight after your operation. If possible, arrange for a friend or family member to collect you. Once you're home, you'll need to rest completely for two to three days and keep your foot elevated. Paracetamol and Ibuprofen will help with any mild pain or discomfort, but you may be issued stronger painkillers if you've undergone extensive surgery for multiple lesions.
Depending on your job, you may need to take a few weeks off from work to fully recover from your foot surgery. However, the exact length of recuperation time will vary depending on the level of surgery and your job role. Your Podiatrist can guide you more on this before your procedure.
What are the risks associated with excisional skin surgery?
As with any medical procedure, skin surgery does come with some risks. Before undergoing foot surgery, your specialist will be able to give you further details on these risks. The most common include:
There's not always a guarantee that the lesion will be permanently removed. There may be a chance the issue will reoccur in the future.
In many cases, this will be minimal and can be treated with over-the-counter painkillers.
Your body may take longer to heal than expected.
Sometimes, a sore or ulcer can develop at the incision site.
In some cases, a thickened scar can develop or a callous may form over the affected area.
Skin surgery and treatment from MYFOOTMEDIC
Whether you're undergoing skin lesion excision to alleviate pain and reduce symptoms or to investigate an underlying cause, the MyFootMedic team will ensure you get the best treatment possible.
Before your surgery, we'll make sure you understand the full procedure and are comfortable. Our knowledgable team has years of experience in foot surgery, and our clinic in Bedford is fully equipped with state-of-the-art equipment to ensure the highest levels of care and hygiene. If you're concerned about a mole, growth or another skin complaint, please don't hesitate to get in touch to discuss the issue. Alternatively, use our online booking system to arrange an appointment.