Ankle foot orthosis are often custom-fitted to ensure the best results. At MyFootMedic, our expert podiatrists can ensure you receive the right AFOs for your requirements.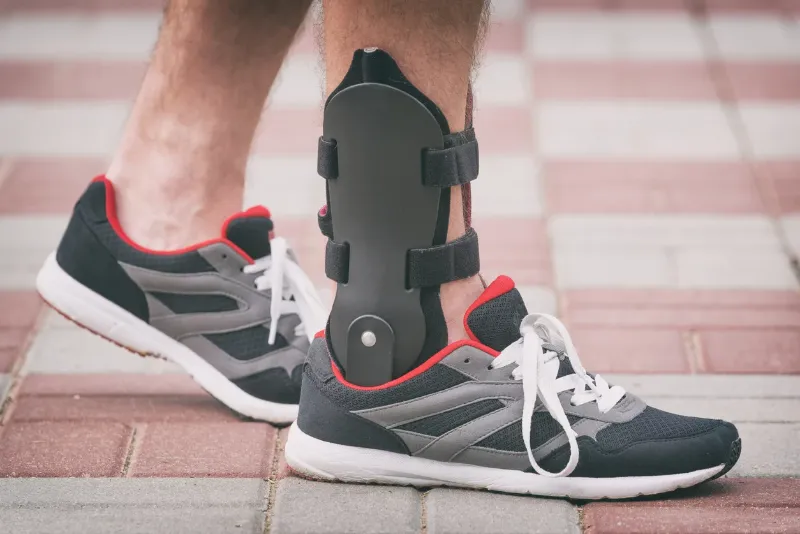 WHAT IS AN ANKLE FOOT ORTHOSIS?
It's important to note that ankle foot orthoses are very different to foot orthotics. An ankle foot orthosis is a brace you wear on the lower leg, rather than an insert for your shoe.
AFOs consist of plastic splints to support your lower leg, ankle, and foot. These splints ensure your ankle and foot stays in an optimal position for walking and standing.
There are several variations of ankle foot orthosis. Your podiatrist can recommend the best option for you. The main options include:
Articulated AFO: this includes a hinge to control ankle movement or to assist with flexibly correctable foot drop.
Rigid AFO: Supporting the knee, ankle, and foot, this kind of orthosis keeps your ankle still, maintaining it in a fixed position.
Dynamic ankle foot orthosis: Made from thin thermoplastic, this type of AFO will be customised to fit your foot and ankle. It's more flexible than other AFOs, allowing more movement from the foot.
WHAT CONDITIONS CAN AN ANKLE FOOT ORTHOSIS TREAT?
You may be offered AFOs to:
Realign your foot and ankle joints
Prevent abnormal movement
Support and heal weakened muscles and tendons
Support and protect your ankle and foot joints
At MyFootMedic, we primarily use foot orthoses to treat ankle issues such as:
HOW TO WEAR AND CARE FOR AFOS
Your podiatrist will guide you on the best ways to wear and care for your AFOs. Here are some tips to help you get the most out of your treatment.
Always wear cotton socks or tights beneath your ankle foot orthoses.
Take your AFOs with you when buying shoes. You'll need comfortable shoes or trainers that can accommodate your ankle foot orthoses.
Try to find shoes that lace up and can open wide with plenty of space.
If you find your AFOs uncomfortable initially, you can start off wearing them for 30 minutes on the first day. Then gradually build-up to the recommended number of hours your podiatrist suggests.
Clean your AFOs with a damp cloth then dry with a towel.
ANKLE FOOT ORTHOSES FROM MYFOOTMEDIC IN BEDFORD
Our experienced podiatrists can help identify the cause of your ankle pain and offer the best course of treatment. We can ensure you get the best-quality custom ankle foot orthoses and ongoing support.
At MyFootMedic, our podiatrists in Bedford are highly trained and reliable.