Fungal nail infections can be frustrating and tricky to get rid of. If you've tried topical treatments at home but find the problem persists, don't worry, Our expert podiatrists can help clear the infection and prevent it from returning. Effective nail fungus treatment can ensure your toes stay in top condition, helping you feel comfortable and confident.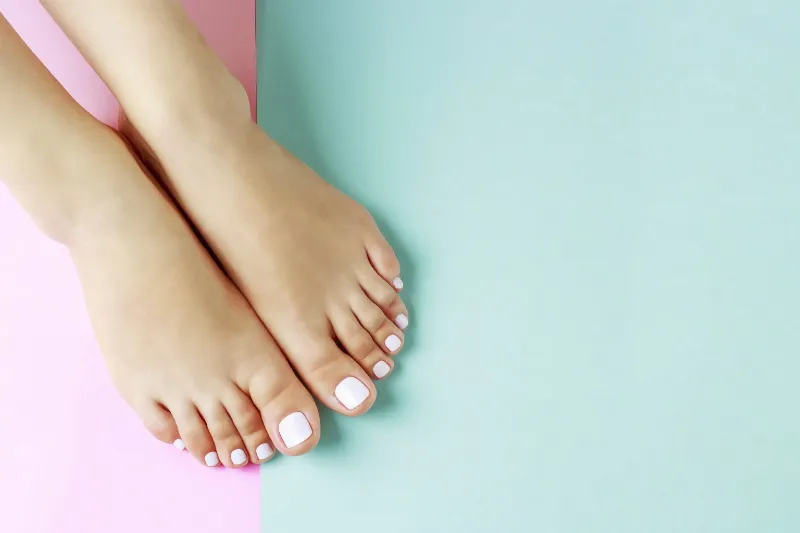 WHAT IS A FUNGAL NAIL INFECTION?
A fungal nail infection (also known as onychomycosis), is a common foot issue that affects 3-8% of the UK population. Ranging from mild to severe, fungal nail infections can affect one or several toenails on both feet and cause the nails to thicken and change colour.
If you have a fungal nail infection, you may notice your toe nails become brittle and crumbly and pieces may fall off. If your infection is severe, the whole nail may detach. In extreme cases, fungal infections can also lead to a bacterial infection which will require treatment.
WHAT ARE THE CAUSES OF FUNGAL NAIL INFECTIONS?
Fungal nail infections usually start as athlete's foot (Tinea Pedis), a common foot infection that impacts the skin of the feet. Athlete's foot can spread to the skin beneath the nail plate, and then into the toenail itself — this is a fungal nail infection.
As well as athlete's foot, there can be other triggers for nail fungus. Trauma to the toes can lead to a fungal infection, and medical conditions that impact the immune system, such as Diabetes, can increase your risk.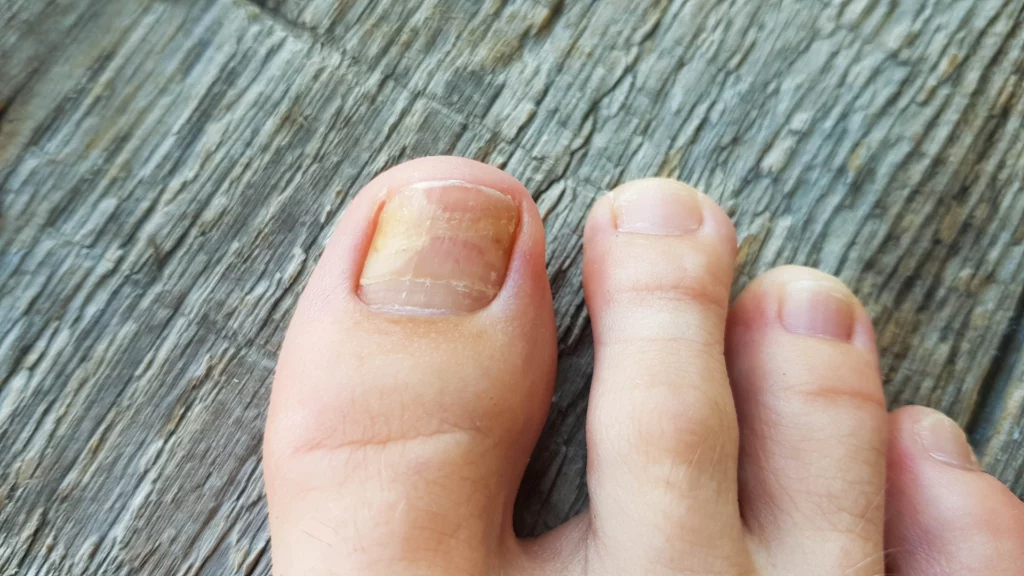 Sometimes, fungal nail infections are painless but you may feel-self-conscious about your toes. Even if there is no pain, it's a good idea to seek professional onychomycosis treatment to prevent it from worsening and to help you regain your confidence.
If your infection is severe, you might experience pain and difficulty walking. In this case, it's definitely worthwhile to look for anti-fungal nail treatment from a qualified foot fungus expert.
You may have tried at-home topical solutions to treat fungal nail infections. Unfortunately, these alone are often unsuccessful. Treating the nail surface will often not clear the infection underneath the nail plate (nail bed).
At MyFootMedic, we know that, to successfully treat toenail fungus, you must break through this barrier and prevent reinfection. Therefore, it's important to treat the skin, nail surface and nail bed. It's also essential to ensure you have suitable footwear.
Our Podiatrists are experts in the field, and we provide a range of services to treat fungal nail infections and ensure they don't return. At our fungal nail treatment clinic, we can offer the following services seen below.
FUNGAL NAIL TREATMENT IN BEDFORD WITH MYFOOTMEDIC
Fungal nail infections can be a pain, but here at MyFootMedic, we have a range of effective treatments to tackle the problem. In fact, we believe our podiatrists offer the best fungal nail treatment in Bedford. Plus, our clinic is fully equipped with state of the art technology to diagnose and treat a wide range of podiatric problems.
Book an appointment today, and our podiatrists will be able to assess, diagnose and treat your fungal nail infection using the most appropriate methods.