If you have diabetes, it's vital to keep an eye on your foot health. You may have high blood glucose levels which can impact your circulation and nervous system.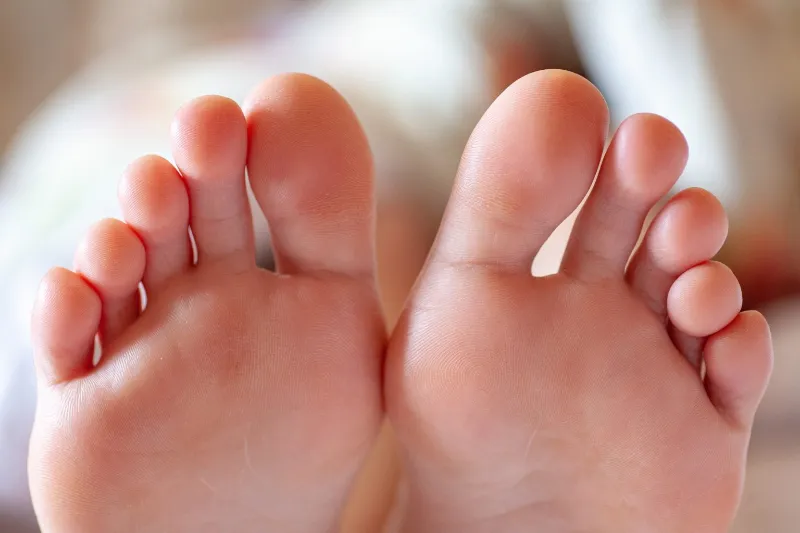 HOW CAN DIABETES IMPACT MY FEET?
Diabetes can cause a lack of blood supply in your feet and lead to peripheral neuropathy — damaged nerve endings. If you suffer from neuropathy, then more severe issues may go unnoticed — this is because it causes a lack of feeling. You may not notice pain or other sensations. Because diabetes can lead to retinopathy (impaired eyesight), visual symptoms may also be missed.
Peripheral neuropathy can also lead to muscle weakness in your feet and cause a loss of coordination and balance.
Poor circulation due to diabetes (peripheral vascular disease) can also mean your body is slow to heal, increasing your risk of more severe complications. You may have a weakened immune system which also makes healing more difficult. As such, diabetes can cause infections or ulcers and even lead to foot amputation.
WHAT ARE THE SYMPTOMS OF DIABETIC FEET?
As a diabetic patient, you may be more likely to experience common foot problems such as blisters, bunions and plantar warts. While it's beneficial for anyone suffering from these to seek treatment, it's especially important if you have diabetes.
It's a good idea to be on the lookout for the following issues in your feet, so you can seek professional advice right away and prevent the condition from worsening:
Foot or ankle swelling (this could be due to nephropathy – impaired kidney function)
Changes in your skin colour or temperature
Leg pain
Fungal nail infections
Corns or calluses
Ingrown toenails
Plantar warts
Open sores that are slow to heal
Dry, cracked skin, especially around the heel
An unusual or persistent foot odour
HOW CAN I REDUCE MY RISK OF COMPLICATIONS?
Looking after your feet is a crucial element of diabetes management. Routine foot care can prevent minor problems from developing into severe issues. Elderly diabetic patients may be at particular risk.
You can carry out diabetic foot care at home. Make sure you wear comfortable, appropriate footwear and check your feet every day. It's also a good idea to moisturise the skin on your feet and keep your toenails trimmed — always take extra care when cutting and filing your toenails.
A balanced diet can help control your blood sugar levels, and keeping active will improve your blood flow.
There Are Also Actions You Should Avoid:
Don't walk barefoot – any minor cuts could become infected.
Never soak your feet for long periods of time.
Don't use a razor to cut corns or calluses.
Don't use chemical treatments for verrucae, corns or calluses.
Seek immediate treatment for any open wounds or lesions.
Contact a medical expert at the first sign of any foot pain.
Try to avoid extreme temperatures.
An annual diabetic foot assessment from a podiatrist can help keep your feet in good condition and monitor any problems.
During your appointment, your podiatrist will carry out neurological, vascular, and skin assessments.
They will also be able to identify your risk level and offer advice and treatment if needed. There are four diabetic feet risk levels:
Specialist foot care, such as ingrown toenails treatment, corn treatment, or ulceration treatment
At MyFootMedic, our expert Podiatrists are specialists in assessing, diagnosing and treating diabetic foot conditions. We take diabetes very seriously — it's the leading cause of foot ulceration and amputation.
We're here to assist you in your diabetic foot care and prevent and treat any complications arising from diabetic feet. As well as providing a diabetic foot assessment, we can support you in your routine foot care (for instance, nail cutting).
We also offer these services:
Advice on footwear and at-home foot care to prevent diabetic foot pain
Insoles and orthotics
If you need a referral to appropriate NHS services, we can provide a letter to your GP.
DIABETC FOOT CARE IN BEDFORD WITH MYFOOTMEDIC
For diabetic foot care in the Bedford area, please don't hesitate to contact the MyFootMedic team. You can visit our state-of-the-art clinic or book an appointment online.