This treatment can provide quick and effective pain relief — particularly for inflammatory conditions.
Are you wondering whether or not a steroid foot injection is suitable for you?
Speak to one of the friendly and knowledgeable MyFootMedic team.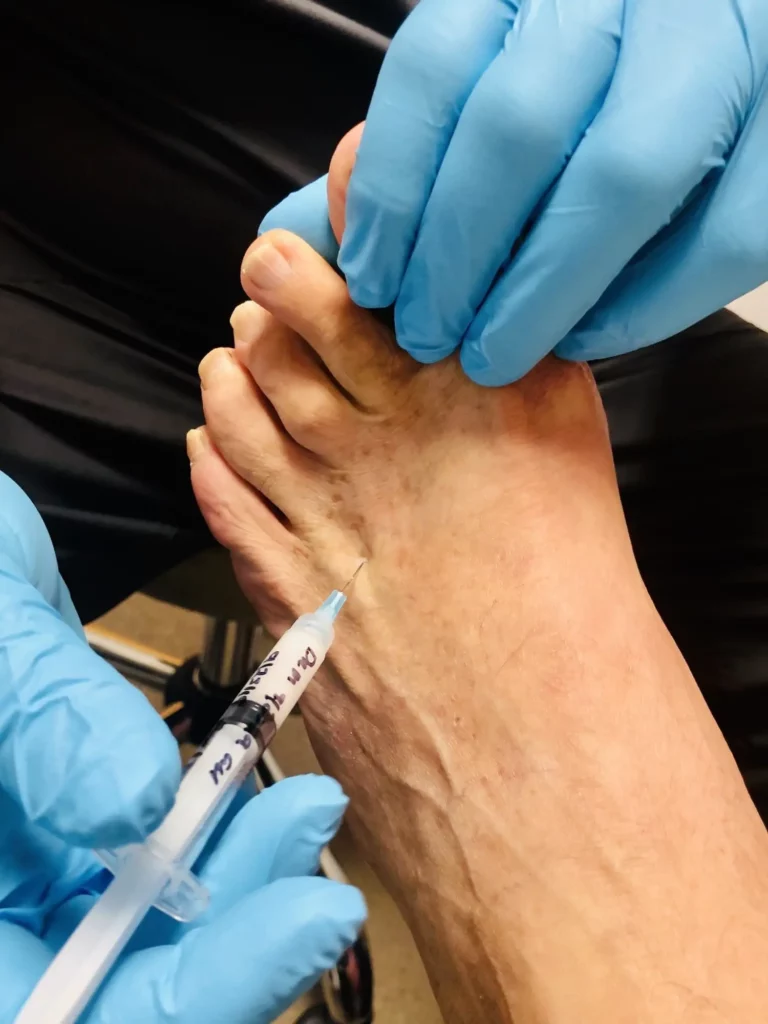 WHAT IS A STEROID FOOT INJECTION USED FOR?
Steroid injections contain a synthetic version of a hormone that our bodies naturally produce. They are beneficial for those with joint or soft tissue pain.
Steroids suppress inflammatory cells and block the body from producing inflammatory mediators to relieve swelling, pain and discomfort.
While you may have tried oral anti-inflammatory medications, such as ibuprofen, you may find that a steroid injection provides stronger, more effective results. This is because they target the affected area.
WHAT CONDITIONS CAN A FOOT STEROID INJECTION TREAT?
Because of its anti-inflammatory effect, a steroid injection is helpful in treating conditions including:
CAN A STEROID INJECTION CAUSE SIDE EFFECTS?
Steroids undergo thorough testing and can be used for a broad range of conditions other than foot pain. Many people will not experience any side effects.
However, as with any medication, it's important to note that steroid injections can cause side effects in some people.
Common steroid injection side effects may include:
Soreness, bruising, or bleeding at the injection site
Skin-pitting or a change of skin colour around the injection site
Light-headedness or fainting
Facial flushing
More serious side effects are possible. However, these are uncommon or rare and your podiatrist can explain the risks in more detail. They will also ensure a steroid injection is suitable and safe for you before going ahead. For example, a foot steroid injection is not suitable for people with poorly-controlled Diabetes or heart failure.
Our team at MyFootMedic use state-of-the-art podiatry equipment and the latest medical techniques to provide you with the best injury treatment.
WHAT TO EXPECT WITH A STEROID INJECTION
It's recommended that you organise transport home following your treatment as you won't be able to drive for 24 hours. It's also best to wear comfortable shoes.
Before your steroid injection, your podiatrist may apply a local anaesthetic to the injection site. It is often recommended to take paracetamol or ibuprofen prior to your appointment to make your injection as comfortable as possible.
We may ask you to wait for 30 minutes after your appointment to ensure there aren't any immediate side effects.
It's best to avoid exercise for at least 48 hours after your steroid injection to reduce the risk of bruising and soreness. You'll also need to avoid extreme heat (such as hot baths or saunas) for 48 hours.
After 48 hours, you can often resume your usual activities and in the majority of cases results will be seen within a week.
STEROID INJECTIONS FROM MYFOOTMEDIC IN BEDFORD
If you need pain relief from foot inflammation, our experienced podiatrists can provide you with quick and effective treatment at our Bedford clinic.
Speak to the MyFootMedic team to discuss how a steroid injection can reduce your foot pain.